Phew.  After a 12 hour nap I'm finally ready to sit down and collect my thoughts about GPUG Summit 2017.
As the title implies, this years' Summit was the biggest yet – which is something we say every year but it never stops being true.  While the event has grown every year since it's inception 11 years ago, I feel like this year it crossed a threshold. Gone are the days of going to Convergence to be schmoozed while seeing the future and going to Summit to learn about what you already own.  I feel like Summit has become a bit of a hybrid of those 2 conference – for better or for worse – and maybe even more than both.
The place to learn about what you already own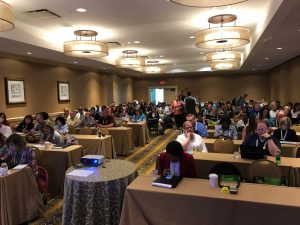 As always, there was a tonne of learning going on.  With over 102 people presenting around 190 sessions it was often hard to choose.  Not only was every module of Dynamics GP represented throughout the week, but companion products such as PowerBI, SQL Server, Excel, Jet Reports, and Management Reporter were also well covered.  Business Solutions MVP Jen Kuntz did her usual bang up job of summarizing the sessions she attended so I won't go into a lot of detail on the content.  But suffice it to say, I learned quite a bit while I was there.
However, that much variety comes with its own set of issues.  Throughout the conference I heard people commenting on the fact that there was simply too much going on at any one time.  This is nothing new, and I happen to know that the planning committee tried their best to repeat sessions that they knew would be very popular.  In my conference going experience, I have found that there's either too much or too little going on at one time…and the conferences with too little don't tend to grow every year.  Given that there is only going to be more content next year, I would suggest that you consider using one or more of the following strategies:
Plan ahead.  The sessions are posted well in advance of the conference.  Some of the keener presenters even have their materials posted!  Narrow down your list of choices per timeslot to no more than 2 (that way you have a backup if the one you choose isn't "the one").
Bring a friend.  The more coworkers you can bring the more sessions you can cover.  Make sure you bring some of this years' learning with you when you approach your boss for budget!
Make a friend.  Even if your company is only willing to send one person, there were almost 2,000 people there this year.  Chances are good that one of them was going through the same session dilemma you were.  Hook up with them, split the sessions then sit down later and compare notes.
Download the materials.  By the end of the conference, most presenters have their materials posted.  Although reading the deck isn't quite the same, there is still a lot of info on them.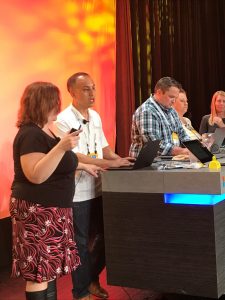 The place to learn about the future
With every release, Dynamics GP gets better and better.  For the past few years, Microsoft has played a much bigger role in helping GPUG Summit attendees understand what is coming in the "next" release of GP as well as the roadmap beyond that.
This year was no different in the sense that Pam Misialek, Product Marketing Manager for Microsoft Dynamics SMB lead the opening session which showcased many of the new features coming in GP 2018. It was different, though, in that Pam called up not only Microsoft employees but also several members of the community to help show off what's coming.  Fellow MVP's Steve Endow and Jen Kuntz, GPUG All Star Shawn Dorward, Barbara Gavron, and I were all invited to the big stage to present our favourite features in the upcoming release.  I'm not sure about everyone else, but this was the biggest crowd I've ever presented to and it is definitely an experience I will remember.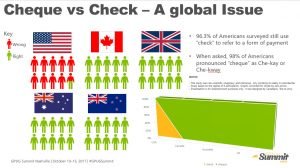 Jen and I presented a couple of features, including the fact that the word "cheque" has been replaced with the word "payment" in GP 2018.  While this is meant to reflect the current global trend towards other forms of payment, Jen and I couldn't resist the urge to continue the ongoing cheque vs check debate that has been in various posts over the past few years.  It was really gratifying to listen to the audience actually cotton on to the joke until nearly 2,000 people were laughing.
The place to recognize your peers
Each year at Summit, various awards are given out to recognize various forms of contribution and leadership within the community.  I am including the slides at the bottom of this post that list out the winners of each award, and won't list each by name as there are so many!
Each of these awards represents a commitment to the community.  Every year, hundreds of members donate their time through activities such as
Leading local chapters
Presenting, either at chapter meetings or in webinars (sometimes both!)
Participating in planning committees for the various conferences
Teaching at Academy classes
Answering questions through collaborate
Writing posts, either on collaborate or elsewhere
I'm sure I'm missing a whack of other ways that people contribute, but my point is that you don't have to be a presenter to join in.  This community is meant to be run by you, the members, and works best when it is.
This year I was honoured to be presented the Richard Whaley award.  For me, personally, this was an amazing experience.  Richard is one of the most well respected instructors in our industry, and to receive an award with his name on it was a true surprise.  To all those who participated in that decision, thank you!  (I've been asked this several times, so thought I would put it in writing: No, I did not know I was under consideration.  In fact, as Bob McAdam was beginning to announce it something on Twitter had caught my attention so I didn't realize until my name was called!)
The place to schmooze and be schmoozed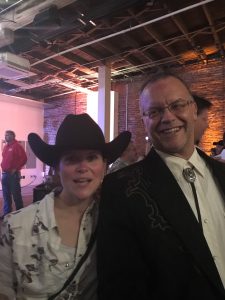 When I went to my first Summit, I had only ever been to Convergence and the old Tech Conference in the GP space.  I had done conferences for other ERP solutions, but GP conferences had always been bigger than life with respect to "advanced networking opportunities".  Let's just say that my first Summit fell well short of Convergence in this department.  Which made sense given the type of conference it was.
As I said earlier, though, Summit seems to have crossed a threshold.  This year I would say that we are getting close to par with what I used to know in Convergence.  Sure, Microsoft wasn't setting off fireworks or bringing in Daughtry as the opening act, but there sure was a lot to do!  In fact, there was so much going on, that this year I had to skip a number of events!  To give you a sense of how busy things get (bare in mind that sessions run from 8:00 am to 6:pm), here are some of the networking opportunities I was able to take advantage of:
The MVP Mingle hosted by Fastpath, Avalara, and Data Masons
The Community Leader event at the Grand Ole Opry
VIP Roundup hosted by eOne Solutions, Experlogix, Adoxio, AXTension, Beyond Impact, Click Dimensions, DICentral, and Sana
The Funky Tonk party hosted by PowerGP Online
A Nashville Predators hockey game hosted by KeCommerce
The FastPath Summit Party hosted by FastPath, Avalara, and Data Masons
And that's just the ones I got to!
In addition to the above, Windi Epperson of Advanced Integrators and I hosted several of our customers and business partners at the Bavarian Bierhaus for a little Oktoberfest fun.  A good time was had by all, and I may have been found participating in both a chicken dance and a Bavarian hat dance.  I know that several other partners also hosted their customers at off-site venues, some of the local chapters had evening meetups, and there were of course the usual GPUG "Dinner with Peers" events.  Again, I know that I am missing a bunch more.
Along with all of this extracurricular activity, there were loads of chances to meet with ISV Partners and other users throughout the week.
Again I was hearing that there was just too much to get to this year.  If you're coming next year, I would suggest that you research in advance and plan ahead.  As I did this year, it is always OK to visit multiple events in one evening depending on your desire to network.  Or, just park yourself in one spot and wait for others to come to you!
The place to be
If I had to choose only one conference to go to per year, GPUG Summit wins hands down.  Don't get me wrong, all of the other conferences I do – including GP Tech Conference and Directions North America – add value and I am always excited to attend those as well.  However, this one feels different.  I think it might be that this is the only conference still standing where Microsoft, Partners, Users, ISV's, and the Dynamic Communities Team all come together in one place to collaborate, communicate, and celebrate.
If you're reading this and have never come to a Summit, please come join us next year in Phoenix, Arizona.
If you're reading this and have been to Summit before, please come join us again in Phoenix next year!
If you're reading this and are trying to find a way to participate in the community, please reach out to anyone at GPUG and I promise they will find a role that suits your temperament.
By Rod O'Connor, Briware Solutions, www.briwaresolutions.com
Follow me on Twitter: @Briware_Rod
But wait, there's more…
As promised above, here are the slides listing out each of the award recipients named at GPUG Summit this year.  Slides are included with the permission of Dynamics Communities.
Gemstone Awards
GPUG Chapter Awards
Richard Whaley Award
2017 GPUG All Star Inductees