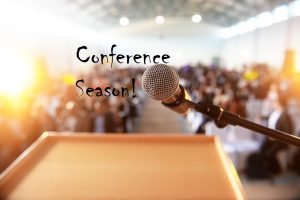 Conference Season 2018 is upon us!  That special time of year that my family dislikes but my Aeroplan miles account loves!
After last year's season of firsts, I honestly wondered what I was going to be able to write about this year to keep things exciting.  I hear that folks tend to stop reading when I ramble.  But don't worry.  While this season will have many "seconds" for me personally, there are a whack of firsts for Briware this year!
So what do we have in store this year?

Hosted by Dynamic Communities, GP Tech Conference will take place in Fargo, ND from August 20 to 22.  Once again I was able to participate in the planning committee for the conference, and I am really excited about the agenda.  You might recall from my review post last year, the content was very in-depth, hands on, and designed for senior level resources.  However, we also had a surprisingly high number of "new faces"!
Bearing last years' attendance in mind, the committee made sure to include some in-depth, hands on content that was designed for newer consultants in this years line up.  Since we all know that GP isn't going anywhere, the committee agreed that it's important we train up some journeymen!  These sessions will be just as deep, but will start from closer to the "beginning".
Once again much of the content will come from the community itself.  After the success of last years multi-presenter sessions, there are actually a higher number of them this year.  For example, both of my sessions this year will be shared with other presenters:
Speed Dating: Yes GP does that!:  I am presenting this session with Windi Epperson of Advanced Integrators and Bob McAdam from Dynamic Communities.  This session is meant to be more of a panel session where we will discuss some of the cool things we've done with GP using lesser known features or add-ons.
BC Eye for the GP Guy: I'm presenting this one with Shawn Dorward of InterDyn Artis.  In the session, Shawn and I will go through some of the experiences we've had with incorporating Dynamics 365 Business Central into our Dynamics GP practices.  The session is not meant to "convert" anyone, but simply answer some questions and share some insights.
On the Briware side of things, this marks the first year that Tracey Wright will be attending a conference wearing the Briware sweater!  It's also going to be the first time Tracey and I spend 4 hours in a car with each other as we drive from Winnipeg to Fargo.  If you plan to be in Fargo in the evening of August 19th you might want to offer Tracey a drink – she'll likely need it!

Traditionally known as the Dynamics NAV partner conference, Directions NA has become the (self proclaimed) "only Microsoft partner conference in North America where you can learn about Microsoft Dynamics 365 Business Central".  As you can see in the previous section, there is a little BC knowledge to be gleaned from the "other" mid market Microsoft Dynamics Partner Conference, but this one is definitely the one to go to if you're looking for in depth training.
This year, Directions NA is taking place from September 30 to October 3 in San Diego, California.
Last year was my first time attending this conference, and as I described in my post "Calm down, Microsoft Dynamics 365 Business Edition is not dead" there was a bit of drama.  Given how things have progressed since then, I am expecting much less of the drama this year and a whole lot more of the learning!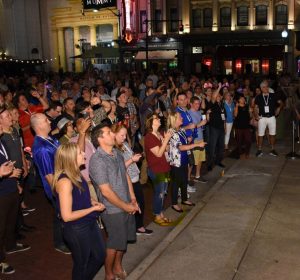 What I didn't get around to posting last year was how impressed I was with the conference overall.  There were a lot of really well presented, in depth sessions and plenty of advanced networking opportunities.  On one of the evenings the conference actually rented out part of Universal Studios just for us and bussed us all over there.  We had rides and food, drinks and shows with none of the annoying crowds!  Of course we were all too tired to enjoy any of it on account of all the learning we had done that day, but we stayed to keep the organizers happy.
Over the past year, I have been participating in the planning of the conference as part of a group of Dynamics GP partners providing feedback on sessions we would like to see.  The take here is obviously GP partners who want to learn more about Business Central.  Again, while we all agree that Dynamics GP isn't going anywhere, there seems to be a growing interest in Business Central in the community and our group acted as a bit of a focus group to review sessions and ideas.  Based on the slice of the conference I got to see, I am definitely looking forward to attending.
I'm doing a couple of shared sessions at this one too.  Shawn Dorward and I will team up once again for "BC Eye for the GP Guy".  But Directions gave us a little more time!  We are going to break the session into 2 "episodes".  I will update this post with links once I have them, but here are the descriptions as we submitted them:
Episode 1, Getting to know you: As a GP Consultant, are you interested in learning the basics of Business Central?  Join two GP MVP's for this introductory Dynamics Business Central session where they will discuss the key differences between the two solutions.  If you are looking to start working with Business Central and not sure where to start, then this is for you!
Episode 2, Old habits die hard: In this session, two GP MVP's will take a look at how implementing Business Central differs from implementing GP. We will cover techniques, concepts and gotcha's to help give you a better idea on how to approach onboarding a new customer.
This year, I will be joined by Kristen Hosman.  While this isn't her first conference wearing the Briware sweater, it's the first non-GP conference of her career and thus a bit of a coming out for her.  Kristen is fast becoming one of our best consultants on Business Central, and I am excited to see what she takes away from this conference.

Yah, you read that right.  I'm technically attending three conferences at the same time.  There's actually a couple of others happening at the same time in the same place, but I only have so much of me to go around!
This is the beauty of Summit!
This year Summit is happening in Phoenix, AZ from October 15 to 18.  In the past, I have really only discussed GPUG Summit with you.  And, as I wrote about last year, the conference has become…bigger.  I've never really told you, though, that all of the other UG Summits are happening at the same time!  What's really cool is that users from each of the user groups are allowed to attend sessions from any user group.  Last year, for example, I was able to attend some of the NAVUG sessions to help deepen my foundation for (what we now call) Business Central even though I was officially registered as a GPUG attendee.
As I mentioned in my post last year, I feel that this conference has really matured over the past couple of years.  While it used to be designed primarily for the users – the ones who actually have their fingers on the keyboard – it has grown to include sessions for the managers and analysts as well.  These are the people who need to understand what's available and what's coming, but don't necessarily need to know how to add the SmartList icon to their toolbar.  Suffice it to say that if your company works with a Dynamics product, or a companion product like Power BI or Flow, then this conference will give you plenty of knowledge you can use as soon as you get home – whether you're a doer, a planner, or all of the above.
This year Tracey, Kristen, and I will be attending some sessions on Dynamics 365 for Sales (CRMUG) and Dynamics 365 Business Central (NAVUG) as end users.  We do have a couple of sessions submitted to NAVUG which I believe are still under consideration for us to present.  We are confirmed for presenting the following sessions for GPUG:
"Rod not only teaches the new GP Admin's the basics, but he reminds seasoned professionals how to utilize newer tools available to the channel.  Additionally, he points out perspectives that many administrators may not consider."
Imagine what she'll say with Tracey in the mix!
As in previous years, Briware Solutions will be hosting a customer and partner appreciation event along with a couple of other partners.  It's a little too early in the planning process to share any details, but so far it's looking like one of the cooler events we've done.  If you're on our mailing list, watch for the upcoming emails and make sure you register!
Prior to the conference, I'll once again be presenting full day "GPUG Academy" sessions:
Introduction to SQL for Accountants Part 1: I've been doing this one for a few years now.  The concept is to teach people who have never used SQL before to write a SQL Query.  It's been pretty popular in the past, and I have honestly lost track of how many people have taken it – which is a pretty cool thing to say.
Introduction to SQL for Accountants Part 2: This is the first year for this one, but it is long overdue!  To be honest, I still owe GPUG a description for the session, but it's going to be cool.  Basically, we want to take the query writing skills learned in the first part, and enhance them with more advanced concepts like inserts, updates, and stored procedures.  You likely won't come away a programmer, but you'll know a whack more than you did when you came in!

Technically, this is the third year for Collaborate Canada.  However, in it's current incarnation I would be confident in saying it's the second year.
Last year, Collaborate Canada didn't make my conference season preview post.  It actually didn't show up on my radar until after that post had gone out.  I presented at all four stops last year and was pretty impressed by what GPUG was able to put together.
Planning has just started for this conference this year, with session submissions being due by August 10.  Like Summit, Collaborate Canada includes GPUG, NAVUG, AXUG, and CRMUG.  Unlike Summit, this conference is more of a travelling road show, with 5 single day events across Canada:
Vancouver on November 5
Calgary on November 8
Montreal on November 13
Ottawa on November 15
Toronto on November 20
If last year was any indication, the event will have a lot of sessions with each UG having multiple tracks.  I would strongly encourage my Canadian customers to come out and support this one!  Briware Solutions will be present at all five locations, though we have not decided who will be where quite yet.
So there you have it!  Conference season 2018 is shaping up to be another busy but great one.
If you're planning to be at any of these events, please reach out to me or any of the team and let us know!
By Briware Solutions, www.briwaresolutions.com
Follow me on Twitter: @Briware_Rod