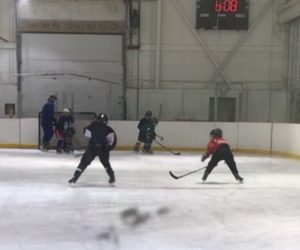 When I was a kid, I was a solid house league hockey player.  I could skate, I understood the rules, and I played for fun.
I never had a desire to play for the "travel" (rep) team, so never experienced just how the system worked.  In fact, I really only played until I was 12 or so and then rediscovered hockey as an adult – when I found out beer leagues were real.
Fast forward many years, and 2 of my 3 children play rep level hockey.  And boy am I learning how the system works!
The biggest thing that I have learned so far is that if your children want to play rep level hockey, the town you choose to live in is extremely important.  That's because the hockey association that operates in the town you live in basically owns your children for all things hockey.  The association decides where your children are allowed to play, and to a very large degree at what level – even if they do not want the child on their team.
As I have worked my way through the process that our town has established for my son, my mind of course wandered to the ERP world.  What if the partner who operated in your town was able to decide what software you could run, and how you got supported?  What if they were able to decide which partner you were allowed to work with, even if they chose not to work with you?
But…that's kind of happening already
As I thought it through, I realized that that's already kind of the case.
When you started looking for a new ERP partner, what did you search for?  Probably something like "Accounting Software in [My Town]", "ERP Solutions [My Town]", or "Dynamics [My Town]".  When I work with marketing professionals they always tell me that I need to include Dynamics ERP VAR in Toronto all over my website so that folks can find us.
While partners don't necessarily get to decide what software you can run, starting with a local partner search could limit your choices significantly – especially in smaller towns.  What if Dynamics 365 Business Central is the perfect solution for you, but there are no local partners who support it?  Does that mean you can't buy it and still get support?
And what about how you are to be supported?  It's sad to say, but there are a number of unqualified partners out there selling ERP software.  Folks who might have the best of intentions, but a general lack of experience to effectively implement and support ERP solutions.
The legend of local support
Anyone who has been consulting as long as I have will remember the days of on site support.  Back then, we would physically travel to the customers location to do any kind of work on the server, as remote access was rare.  You'd show up with a backpack full of everything you needed (a pull along briefcase if you are older/stodgier than I am) and the customer would show you to the closet where the server was stored.  You'd sit in the folding chair they kept in the closet for just such occasions, put the keyboard across your knees, and get on with what you needed to do.
In those days, if your partner wasn't local then getting them in to do anything took a lot of extra time and money.  Flights and hotels could be required.  And there was no real difference between a 15 minute fix and a 7 hour fix as far as cost goes.
Remote access was rare?
Yes, this makes me feel old.  There are people reading this post right now who don't remember a world without internet.
In today's environment, it is actually becoming more and more rare to find that server in the closet at the customer's office.  More often than not, these days, software is being hosted somewhere other than the customers office and users are accessing it remotely.  The software itself might be offered as a service like Dynamics 365 Business Central, or hosted in a public or private cloud like Dynamics GP or NAV can be.  And even in cases where the server is at the customers' physical location, there is almost always some form of remote connectivity available.
I recently worked with a customer who wanted me to come in to their office to work through an issue for them.  I suggested I could do it just as easily remotely, but they insisted it would be easier if I came in.  When I got there, I was using RDP to access the server (I was sitting in a cubicle, not a closet!) and the server was actually hosted off site.  The work took half an hour, but the client had to pay mileage and travel time over and above that.  That seems a waste to me.
Sure, you can support remotely.  But what about implementing software?
At this time, we are currently mid implementation with 4 different customers whom I have never met.  In 2 of those cases, we are engaged through strategic partnerships we've made with CSP Partners whom I also have never met.  We also have several other implementation projects on the go right now, but none of them are local.
An implementation project is really just a series of meetings, training sessions, development efforts, and support.  Combined with the remote access to the server I spoke about above, todays world also includes several really powerful online meeting solutions.  In many cases, the online training is even better because it can be recorded and saved for later use.  Our tool of choice right now is Skype for Business.  We are investigating the use of Teams, but aren't ready to make the transition yet.  As long as you apply standard meeting etiquette to your meetings, a remote implementation can be just as effective as an on-site one.
That said, I generally do recommend at least one live meeting with your partner somewhere near the beginning of the project.  There is a lot that can be affected in the advice you receive from your partner by having them walk through your physical operations.  The onsite also gives your partner a sense of the people they are working with, which helps when it comes to recommendations on process or timelines.  This on site doesn't need to be the entire team for a week like it was in the old days, but one or two lead resources from the partner for a couple of days should do it.
So, do I ignore local?
Absolutely not!  If there is a good partner in your area who supports the software you want to use in a way that you want to be supported, then why wouldn't you work with them?  My argument with this post is that geography for ERP support is far less relevant than it used to be.  Your focus when selecting a partner should be on process, knowledge, integrity, and experience as opposed to postal code.
In my son's case, we found a great team for him to play with a couple of towns over.  Their home arena is obviously further away, but the coach is really solid and my son has responded well to him.  Likewise, the coach seems genuinely excited to have my son come play there.  We feel like he will develop really well on this team.  But if we could get all of that from our local team, why wouldn't we?  The fact for us is that the non local team is the better choice.
So, whether you are in the GTA or not, if you're ready to talk ERP options please do reach out to us at 1-877-BRIWARE.
By Rod O'Connor, Briware Solutions Inc.
Follow me: @Briware_Rod