OUR SOLUTIONS
Microsoft Dynamics can improve your business operations
Microsoft Dynamics is a financial and business management platform that helps organizations improve and automate business their processes. Easy for users to learn, it works with and like Microsoft Office and provides reporting with unmatched flexibility. All without the need for an extensive IT infrastructure.
We are an authorized reseller of Microsoft Dynamics 365 and GP, but our business is built on consulting and support services. Helping you find the right solution is far more important to us than selling you more software. We will work with you to determine the best solution configuration based on your requirements, including:
Check out this infographic on the 7 strategic ways you can grow your business with Microsoft Dynamics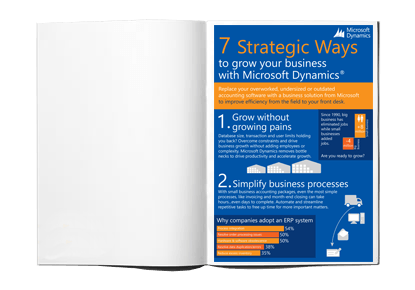 A specialist in Microsoft Dynamics solutions
With certified Microsoft Dynamics consultants, we ensure our customers that we stay up-to-date on the latest Microsoft technologies so that we can be sure to recommend the appropriate solution for your organization.
Since Briware specializes in only Microsoft products, we have honed our expertise in their specific collaboration and reporting tools therefore ensuring you and your organization that we can suggest and implement the most appropriate applications for your business.
Committed to Microsoft Dynamics GP
An active contributor to GPUG (Great Plains User Group), we support the Microsoft Dynamics GP user community. We have witnessed first hand the impact that Microsoft Dynamics GP can have on your operations and we believe to our core that it is one the best business management systems for many organizations.
CHANGE THE GAME – IS YOUR ORGANIZATION READY?
In this video William Taylor, co founder of Fast Company, gives advice about how you can apply the lessons of winning companies to grow your business.